RURAL LEADERS CONVENE TO TAKE ACTION ON FEDERAL AND STATE POLICY
THAT WILL BENEFIT RURAL AMERICA
Over fifty rural advocates from around the country met in Omaha, Nebraska to identify key federal and state policies designed to support rural people and the places they live. Advocates discussed priority legislation and executive action that will ensure all working families, no matter where they live or the color of their skin, have the opportunity and tools to build a good life and strengthen their communities.
The 2023 Rural Policy Action Summit was hosted by several organizations working to ensure rural people have a voice in the decisions that impact their lives: Rural Democracy Initiative, Health Care for America Now, People's Action, RuralOrganizing.org Education Fund, Farm Action, and State Innovation Exchange.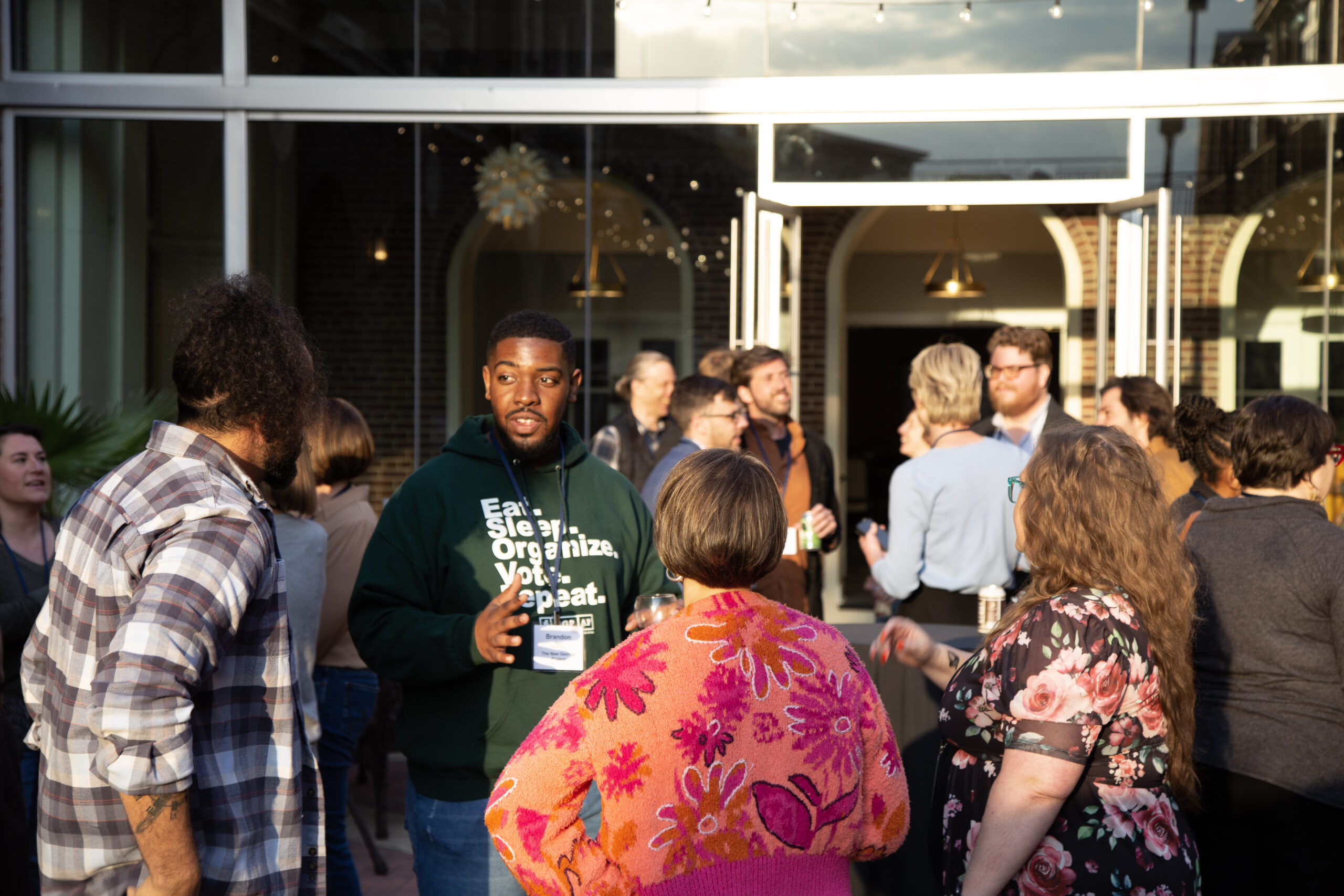 Brandon Byrd, Georgia Ignite Lead Organizer for New Georgia Project, at the Rural Policy Action Summit
The summit featured wide-ranging topics and popular priorities, which benefit people across the country, including people who don't live in rural areas. "After gathering over the past two days with the dedicated and creative advocates representing rural issues and communities from around the country, I'm more committed than ever to helping federal and state governments take action that supports rural people," said Sarah Jaynes, Executive Director of Rural Democracy Initiative. "We're leaving with new tools and relationships to work together to advocate for our most urgent priorities."
In sessions on topics ranging from "Workers, Small Business, and Credit" to "Care, Public Services, and Government Revenue," participants recommended policies that would expand the tools and resources for small businesses, family farmers, and local communities. "We need to rein in corporate price-gouging and lower health care costs to build an economy that provides real opportunity and security for working people in rural communities," said Margarida Jorge, Executive Director of Health Care for America Now (HCAN). "In every zip code in the United States, people need good-paying jobs, quality, affordable healthcare, and accessible child care and elder care services so they can take care of their families, plan for the future and contribute to their communities.''
Iowa State Rep. J.D. Scholten spoke at the summit, expressed the urgent need for affordable and accessible healthcare, and remarked that farmers frequently lament "having to travel further and further for less." Good policy can help address affordability and lower costs for working families in rural communities.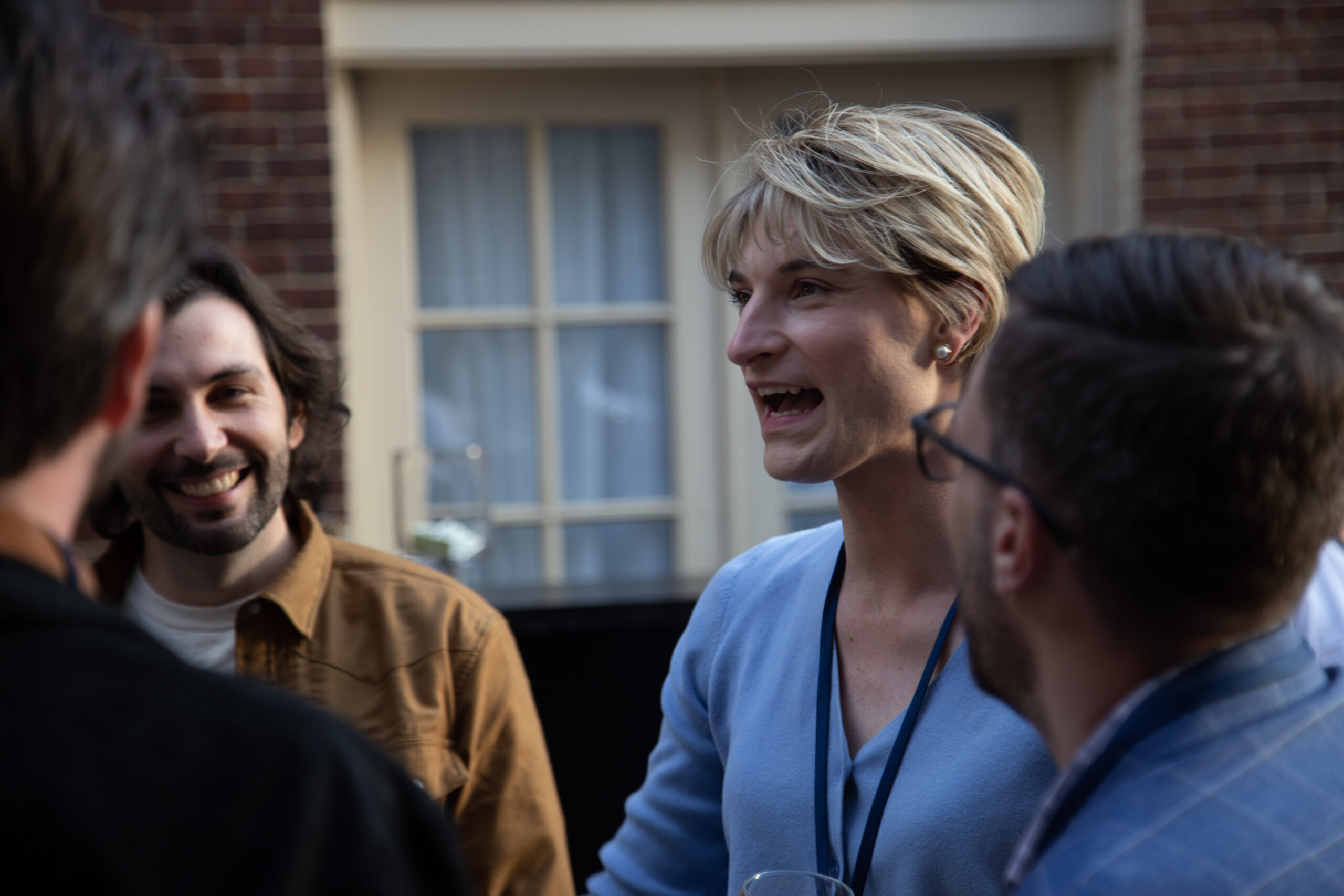 Rosemary Ketchum, Councilwoman of Wheeling City, West Virginia, at the Rural Policy Action Summit
The issue of market concentration and monopoly power was shared by many. "For too long, monopolistic corporations supported by government policies have been allowed to extract unprecedented wealth from farmers and their rural communities," said Joe Van Wye, policy and outreach director at Farm Action. "The summit brought forward the broad constituencies to join together to change this reality for everyone that lives in rural America. Together we will transform our food system into one that revitalizes rural communities, strengthens local economies, empowers farmers to succeed, and delivers nutritious food to every American."
Participants spoke about the need to ensure people in rural communities have the power to make decisions that impact their lives. "We believe that every American — regardless of whether they live in small towns or big cities, have been here for decades or just arrived —should have what they need to succeed," said Kendra Kimbirauskas, the Senior Director of Agriculture & Food Systems at State Innovation Exchange. "The Rural Policy Summit has been an opportunity to explore tools and policies to improve the lives of rural people, including policies like funding for our hospitals and access to reproductive health care. It's also policies that ensure fair elections and allow farmers to feed their communities. We look forward to working with rural community leaders and state policymakers together as we shape a new vision for Rural America that centers the needs of the people living and working here."
A frequent theme was advocating for policies that secure a cleaner, healthier, and more secure future for rural communities. "For too long, rural America has been miscategorized as a conservative monolith that is averse to progressive solutions to local problems and afraid of big ideas," says Kellon Patey, the Rural Strategies Lead Organizer at People's Action. "In reality, rural people of every creed and color are hungry for policies that rein in corporate power, support working people, protect our democracy, take on systemic injustices, and ensure people's freedoms to make decisions about their bodies. People's Action is immensely grateful for all the work put into this summit by our cohosts to make it such a success. Members of our Rural Cohort are coming away better connected to other thought leaders in the rural progressive ecosystem, better informed about opportunities to advance progressive rural policies these next two years, and better equipped to play a leadership role in those advocacy efforts at the federal and state level."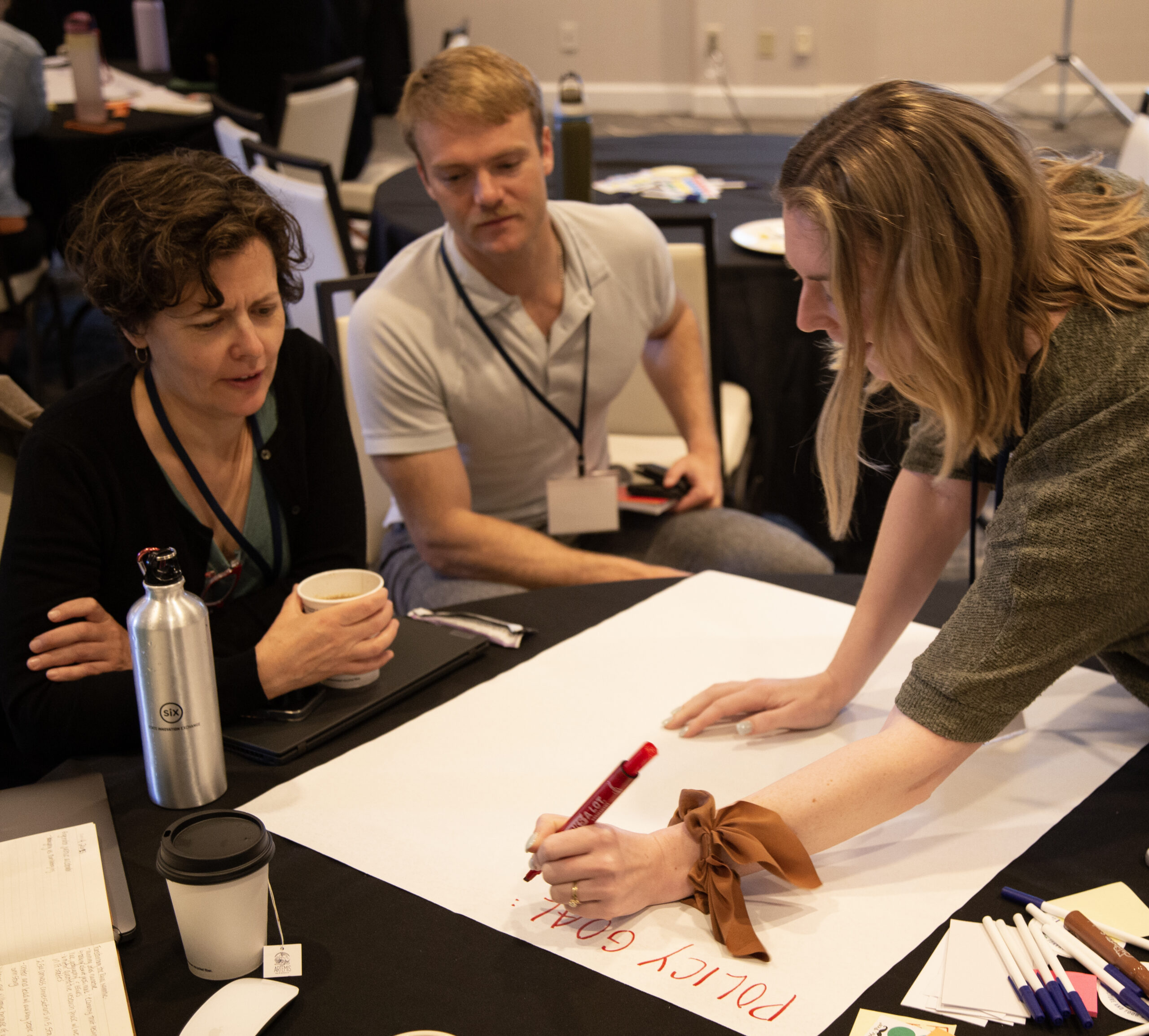 Siena Chrisman of State Innovation Exchange, Kellon Patey of People's Action, and Caitlin Cromwell of Northern Plains Resource Council discuss policy goals at the Rural Policy Action Summit
Many participants at the summit noted the urgent need for access to reproductive healthcare is an essential component of creating safe, thriving rural communities. "I heard a continued need to increase jobs and wages, decrease daily costs like child care, transportation, and housing, and to improve the quality of life in rural communities," says Annie Contractor, the Associate Manager of Government Affairs at RuralOrganizing.org. "Our discussions raised access to abortion as critical to each of these rural needs. We are coming away with a refreshed excitement to amplify the rural civic leaders doing the hard work to make their communities empowered, thriving, and equitable."

Building on Momentum
The 2023 summit builds on the work of the 2021 Rural Policy Action Summit, which led to the creation of the 2021 Rural Policy Action Report and the 2022 Blueprint for Rural Policy Action in the States. These reports — which identify the top rural policy priorities — were widely publicized and shared directly with policymakers and decision makers. In the two years since the 2021 Report, the Biden Administration and leaders in Congress have passed many of the key priorities, including:
 American Rescue Plan Act – real recovery and a foundation for all working families and all communities


Bipartisan Infrastructure Investment and Jobs Act – essential tools that small businesses, family farmers, and local communities need to thrive


Postal Service Reform Act – a lifeline for rural America


Key Executive Action – prioritizing funding for rural communities, promoting opportunity and competition, rebuilding supply chains, and diversifying leadership to reflect all Americans


The CHIPS and Science ACT – bringing back manufacturing jobs to America to reduce costs and secure our economy; and creating the RECOMPETE Pilot Program which invests in distressed communities with flexible funding


Inflation Reduction Act – lowering costs of healthcare and energy, securing a cleaner and healthier future for all communities



The Summit builds on this policy progress to update today's priorities and highlight new opportunities, especially leveraging federal funding from the Inflation Reduction Act and other recent policy progress to invest in rural-led solutions for economic prosperity, climate change, and quality of life.
The Summit builds on this policy progress to update today's priorities and highlight new opportunities, especially leveraging federal funding from the Inflation Reduction Act and other recent policy progress to invest in rural-led solutions for economic prosperity, climate change, and quality of life.
Rural People Ready for More
Rural voters support ambitious policy and system change. Polling shows rural and small-town voters support the Inflation Reduction Act, passing a new voting rights act, allowing Medicare to negotiate lower prices on prescription drugs, and closing tax loopholes on giant corporations. For example, 88% of young people and 82% of independents in a recent rural voter poll said they would be more likely to support a candidate who said, "A handful of corporate monopolies now run our entire food system. We need a moratorium on factory farms and corporate monopolies in food and agriculture."